Manufacturing with Order Time inventory is quick & easy. Create SKUs for all the package sizes you sell. Use Lot or Batch numbers. Develop and maintain a Bill of Materials for all your recipes. Use Work Orders for production and quality control. Put labels on finished goods with our custom label printing.
---
Gain full control over your Production with order time
Optimize your inventory and keep track of your stock at all times. Get accurate stock levels in real-time as stock comes in and moves out.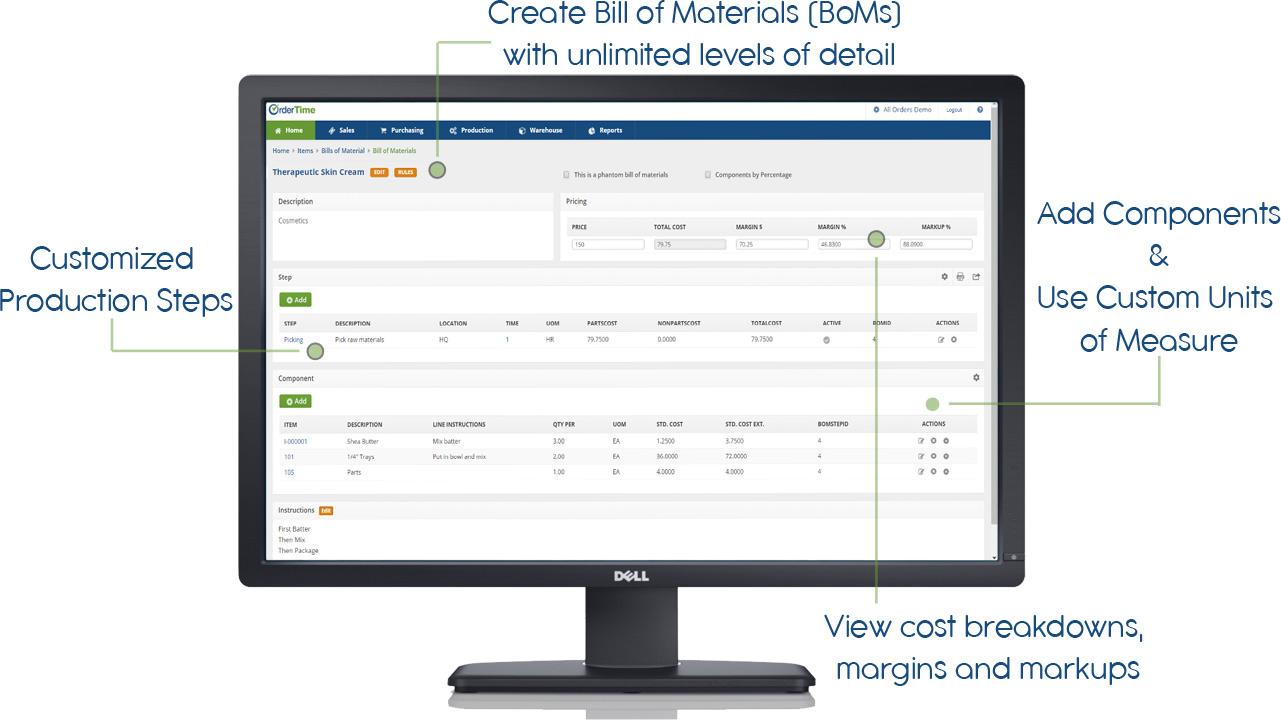 ---
Manufacturing Feature HIGHLIGHTS
For assemblers and light manufacturers, Order Time gives you the tools to track work orders (production orders), raw materials or component usages, costing and scheduling.
| | | |
| --- | --- | --- |
| | | |
| Bill of Materials | Work Orders | Monitor Production Levels |
| Bill of Materials (BoMs) with routing steps. Nest sub-assemblies to create indented BoMs with unlimited levels of detail. View cost breakdowns, margins and markups. | The Work Order and Disassembly uses the BoMs that have been defined for high level production management. Build complex assemblies with the ability to modify components to be consumed on the fly for each finished assembly. Allocate only what you need to begin production and split Work Orders to keep production moving. | Tracking your Work Order is an essential part of your business model. Timing and production levels can be easily tracked in the system. Functions are available to view your production Work Orders Promise Date, Status, Instructions, etc. The system provides additional options to filter your Work Orders. |
| | | |
| Calendar & Alerts | Kitting & Assembly | Warehouse Management |
| If you want to remind a sales rep to follow up on an order, you would create a Task for the sales rep. Order Time has the ability to support users in tracking assignments and and set Alerts. The Activity Schedule (or calendar) is easy to use and serves different functions depending on your scheduling needs. | Bundle a group of items together to sell as a single unit. Individual items and components can be kitted as products and sold. Set up assemblies for everything you manufacture to make work orders quick & easy. | Keep your warehouse at tip-top efficiency. Perform inventory counts and stock adjustments on the fly. Set items into bins and record their bin-moves. Create transfers from location to location. |