Stockouts can cause you to lose sales and disappoint customers. That's why it's so important to manage your inventory levels and make sure that reorders are made on time. With Order Time you will also be able to manage inventory across multiple locations and warehouses.
---
Gain full control over your inventory with order time
Optimize your inventory and keep track of your stock at all times. Get accurate stock levels in real-time as stock comes in and moves out.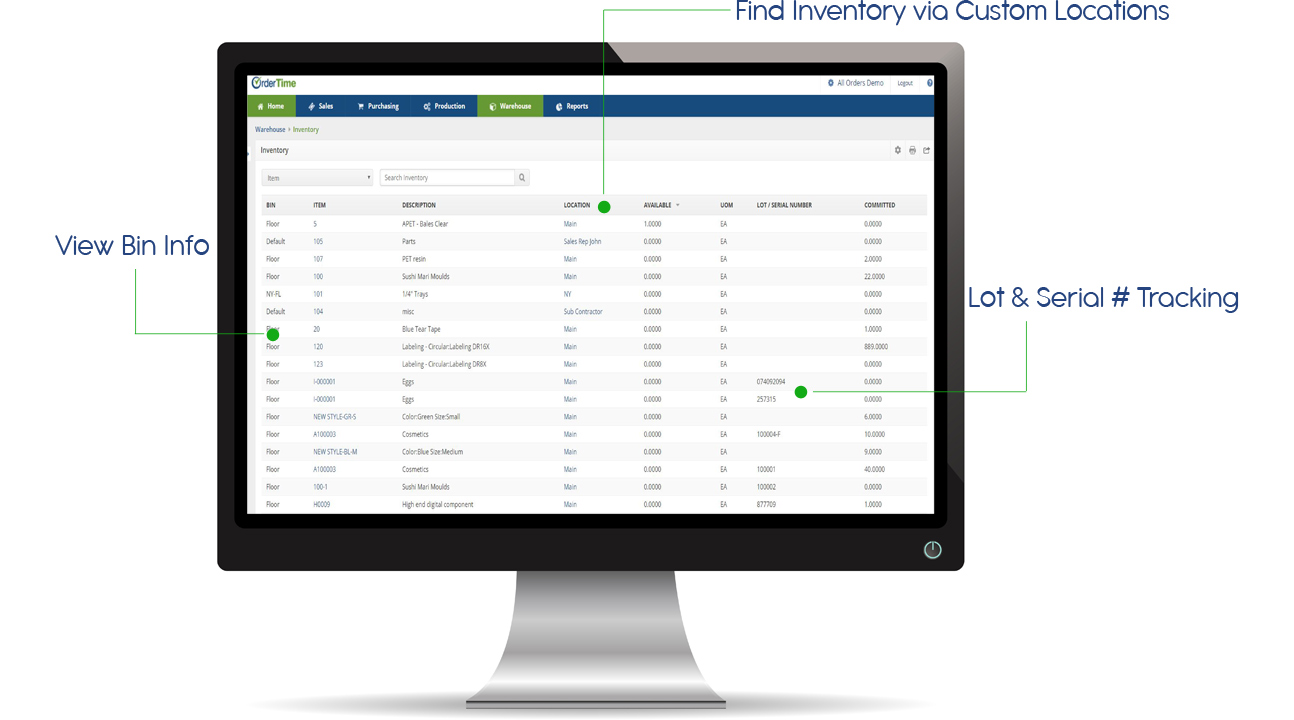 ---
Inventory Control Feature HIGHLIGHTS
Order Time will give you unprecedented visibility into sales, purchasing, production and warehousing. Integration with accounting, ecommerce, shipping and EDI systems will streamline your work flow and increase efficiencies.
| | | |
| --- | --- | --- |
| | | |
| Locations & Bins | Lots & Serial Numbers | Kitting & Assembly |
| Track your inventory across all your selling channels automatically. There's no margin for error when everything is in perfect sync. Set custom Locations & Bins so that you can find anything quickly and efficiently. | Keep your inventory organized with vital details like Lot numbers or Serial numbers. Increase traceability and allow for tracking of each and every item you produce or resell. Set up expiration dates in order to keep your ingredients fresh. | Bundle a group of items together to sell as a single unit. Individual items and components can be kitted as products and sold. Set up assemblies for everything you manufacture to make work orders quick & easy. |
| | | |
| Warehouse Management | Style Variation | |
| Keep your warehouse at tip-top efficiency. Perform inventory counts and stock adjustments on the fly. Set items into bins and record their bin-moves. Create transfers from location to location. | Create variants of an item based on custom attributes and keep them neatly organized. You have different colors, flavors, or sizes of an item? No problem, create them as a batch in our style editor and edit them all together when necessary. | Keep track of items by assigning barcodes to them. Scan items into sales orders, invoices, and more to avoid manual data entry. Create labels with our custom label designer and print them using our special integration. |