Connect your favorite platforms to Order Time Inventory using Synqware
Order Time inventory is a robust inventory and order processing system that can be integrated with your eCommerce solution, shopping cart, and more. These integrations will significantly reduce the time and errors in entering new customer information and web order processing. Synqware is an integration partner of ours that can connect virtually any order source directly to Order Time via our API.

---
Make Order Time Your Central Hub
Connect all of your order sources (Field Reps, Web Sites, EDI, Marketplaces) to Order Time Inventory! Synqware's cloud-based platform, Bizperanto, allows you to determine how often to poll your order sources and immediately push them into Order Time.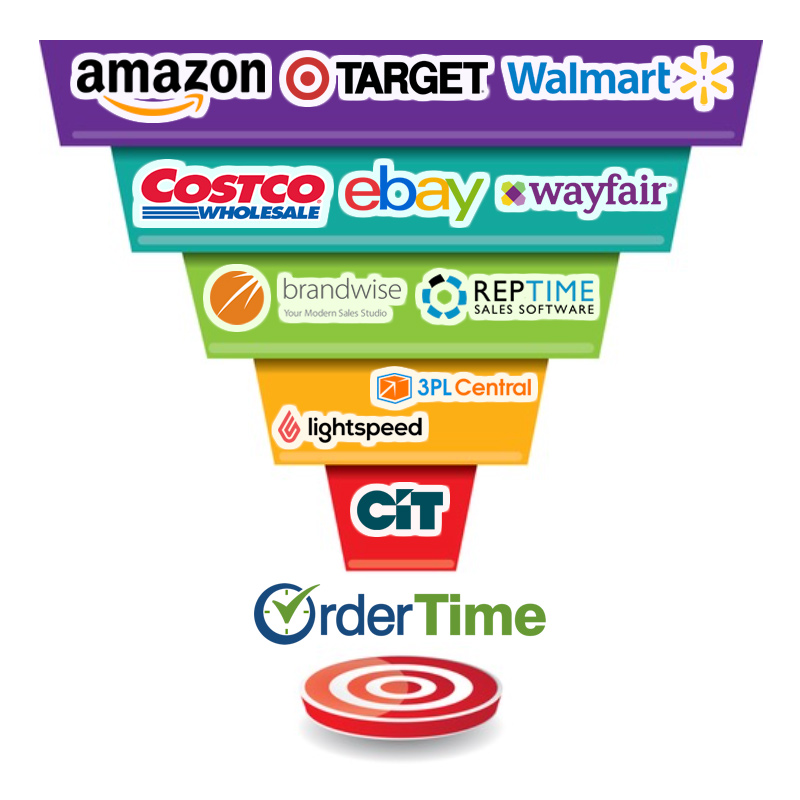 ---
Synqware Feature HIGHLIGHTS
Order Time will give you unprecedented visibility into sales, purchasing, production and warehousing. Integration with accounting, ecommerce, shipping and EDI systems will streamlined work flow and increase efficiencies.
| | | |
| --- | --- | --- |
| | | |
| Prevent Duplicates | 3PL Integration | Automated Replenishment |
| Order Time users like the fact that they have a "Match Customer" screen in Bizperanto that allows them to match an incoming customer to a variant spelling in Order Time so that a dupe new customer is not created. | Shipping quicker and more accurately translates into selling more. SYNQWARE's Bizperanto platform is used by leading 3PLs such as Capacity LLC, SP Express, and Total Biz Fulfillment, to connect to their vendor clients and serve them better. | Help your reps make sure that your products stay in stock with REPLENCAST. SYNQWARE's REPLENCAST platform reaches out to your customers who haven't ordered in a while, suggesting an order based upon their recent order history. "Replenegrams" (customized emails with suggested orders) can go out to both reps and retailers. |
---
Endpoints Organized By Type
Marketplaces


Wayfair

---


Amazon & Fulfillment by Amazon

---


Overstock

---


Zulily

---


Zola

---


HayNeedle

---


Costco

---


Target

---


Rue La La

---


Walmart Marketplace

---


Kohl's

---


eBay

---


Nordstrom

---
POS Systems


LightSpeed

---


QuickBooks POS

---


Celerant

---
Order Writing Systems


Brandwise

---


Aleran

---


RepTime Sales Software

---


BrokerForce

---


OrderXpert

---


HandShake

---


NuOrder

---


Emun SMS Commissioner

---


BrandBoom

---
3PL


SP Express

---


Capacity LLC

---


DCL Logistics

---


DirectShot Distribution

---


SaddleCreek Logistics Services

---


Faro

---


Total Biz Fulfillment

---


FSI Fleet Services US

---


FSI International

---


NRI Distribution

---
3PL Systems


3PL Central

---


Shippage

---


Synapse

---


InOrder

---


InfiPlex

---


Prowares

---
B2B Marketplaces


OmegaNet

---


Speartek

---


Pharos by Whereoware

---


Faire

---


NuOrder

---


Repzio

---
Factors

Import & Supply Chain

Ecommerce Carts


CIT

---


IDB

---


PointForce

---


Apprise Software

---


X-Cart

---


OpenCart

---