---
QuickBooks + Order Time
QuickBooks is the #1 financial software for small businesses. Its cost and simplicity make it easy for small businesses to keep track of income and expenses. It offers an upgrade path from Pro to Premier to Enterprise with Advanced Inventory and Pricing. Although you love QuickBooks for accounting, you may find it hard to grow beyond what it can offer in terms of Inventory.


Do any of the following situations apply to you?

My inventory levels are negative and never accurate!
I'm hitting the Item limit in QuickBooks.
Lot or Serial number tracking lacks the ability to store important data such as the expiration date.
I can't change the proportion of components on my assemblies/builds.
I need to share order & inventory data with sales reps and my other locations.
I don't want to maintain a server!

I prefer to use Mac/Apple products.

I want to switch to QuickBooks Online. [

QuickBooks Online: 5 Reasons Why It's Time to Move to the Cloud

]

There is little support for Vendor management, part aliases, barcoding, automated purchasing and more.

Mi empresa opera en el idioma español.

Necesito un software que pueda escalar con nosotros.

[

¡Order Time ahora está disponible en español!

]
We're a small enterprise and we're not sure whether cloud-based solutions are able to handle us. [Are you a Small Enterprise?]

Solve all of these situations and more with our cloud inventory platform, Order Time.


With Order Time's accounting integration, you can continue to use QuickBooks for accounting and achieve your operational goals.

Order Time Accounting Flow
Order Time will import your List (such a Customers, Vendors and Payment Method) from QuickBooks. From then on there is bi-directional synchronization. You can add, edit and delete Lists in either program.

What if you don't want to have Inventory Parts or Assemblies in QuickBooks? That's not a problem! Order Time will optionally post journal entries to reflect costing in QuickBooks.

Order Time operates as your central hub taking care of the sales, purchasing and production cycles plus warehouse functions. Don't bother creating invoices or bills directly in QuickBooks. Make these transactions within Order Time and sync them to QuickBooks, it's that easy!

Is Cloud Inventory the Right Fit for Small Businesses? Find out more about Cloud Inventory basics and how you can improve your company's efficiency.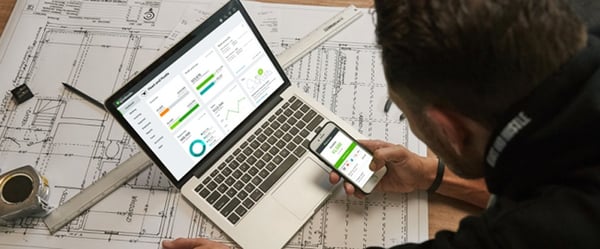 How does QuickBooks work with Order Time?
Powerful accounting synchronization with QuickBooks, updates to entities, such as items and customers and transaction export including invoices, bills or item receipts, credit memo and adjustments.
---
Do you have Guides explaining the sales, purchasing, or production flow within Order Time?


+ We have charts and explanations for the various facets of each below —


>> Sales Flow