Add thousands of part numbers and descriptions with our elegant import section. It's simple to deal with in-house manufactured or purchased goods. Manage your inventory and monitor all your shipping with one central hub, that's the benefit of using Order Time inventory.
---
Gain full control over your inventory with order time
Optimize your inventory and keep track of your stock at all times. Get accurate stock levels in real-time as stock comes in and moves out.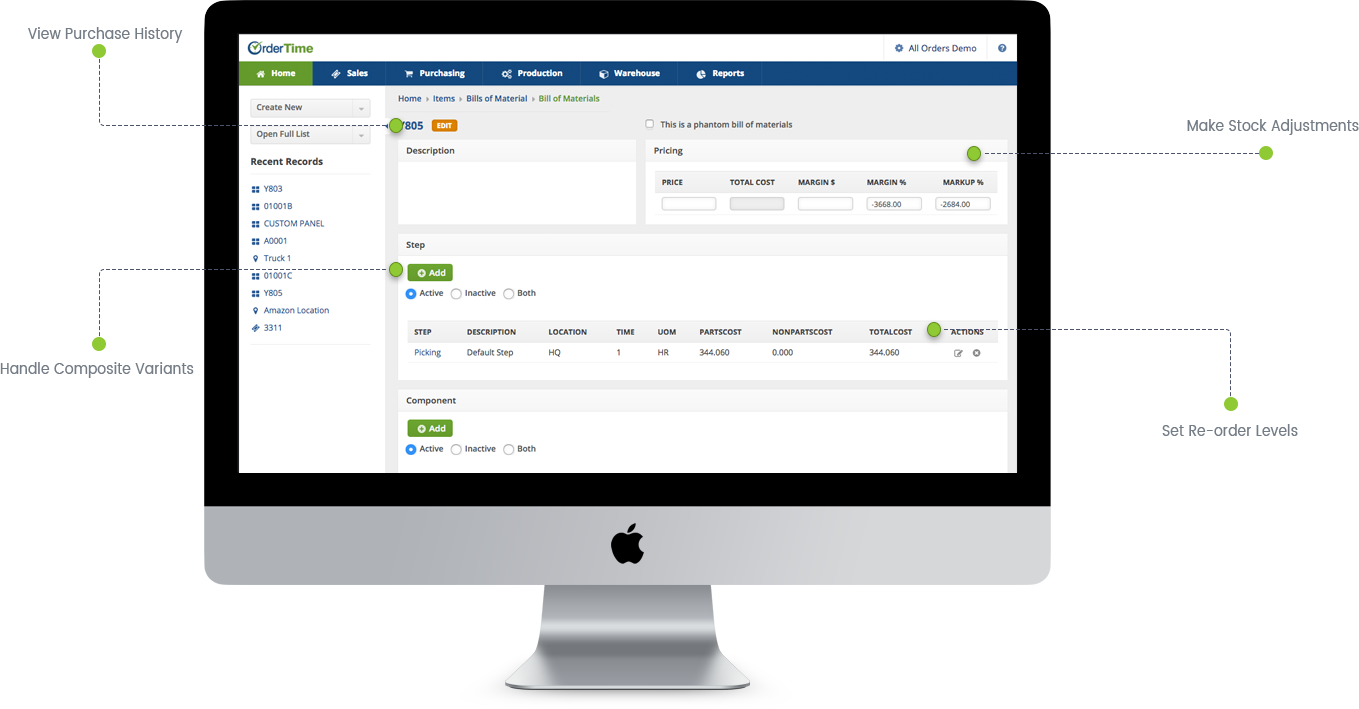 ---
Inventory Control Feature HIGHLIGHTS
Order Time will give you unprecedented visibility into sales, purchasing, production and warehousing. Integration with accounting, ecommerce, shipping and EDI systems will streamlined work flow and increase efficiencies.
| | | |
| --- | --- | --- |
| | | |
| Centralized Inventory | Product Listing | Item Kitting |
| Update your inventory quantities across all your selling channels automatically whenever a sale has been made. There's no margin for error when everything is in perfect sync. | Keep your inventory organized with vital details like prices, cost, availability and SKUs. Create variants of an item based on custom attributes and keep them neatly organized. | Bundle a group of items together to sell as a single unit. Individual items and components can be kitted as products and sold. |
| | | |
| Automatic Reordering | Stock Adjustments | Barcode Management |
| Never lose out on another sale due to stock-outs in any of your channels. Set reorder points, reminders, and preferred vendors for your products to avoid untimely stock-outs. | Make adjustments to your stock levels in case of product shrinkages. Capture all the adjustments and view all the details. | Keep track of items by assigning barcodes to them. Scan items into sales orders and invoices, and avoid manual data entry. |