We like to field questions during our Live Webinars and provide on-screen answers. Here is a selection of questions from this past week with answers and links to our knowledge base! If you have some questions of your own, contact us any time. Sign up for a Webinar or a 1-on-1 meeting to learn more.
---
What if I want to give multiple options while the customer is ordering a bundled item?
A: You want to allow the components of the bill of materials to change at the time of the order? For example, a make-to-order computer manufacturer may want to give a customer a choice of hard drives. This is where the configurable bill of materials is used.
>> Assembly and Creating a Bill of Materials
---
Can I transfer inventory from warehouse to warehouse and also to different locations within each warehouse using Order Time?
A: Yes, if your business operates from multiple locations, then you can perform a Transfer within the Warehouse section of Order Time to shift inventory. On screen you can choose the origin, where it's going, shipping method, tracking #, and total weight. You can even allocate a cost to shipping your inventory from location to location. In order to move inventory around within your warehouse we suggest doing a Bin Move from the Warehouse section of Order Time. It allows you to complete the move, record the date in which it was completed, and record the quantity.
---
Can you explain the "scan" feature for items on a sales order? We frequently have SOs with hundreds of different items.
A: You can scan items into all documents using Item Number, UPC, Manufacturer or Customer Part numbers. To change any of your scanning preferences, click the cog wheel to go into the settings, click on Company Preferences, click on the section 'All Orders Mobile' and scroll down to view all the options. Once you're done making selections, click on the green Save button.
>> All Orders Mobile & Using a Barcode Scanner w/ Order Time
---
Can I use my MC40 scanner to do the bin move?
A: No, at this time we do not support Android OS scanners, however you can perform a bin move and much more with a Windows OS scanner.
>> Visit BarcodeShack, our authorized Order Time hardware partner, for more info
---
How is the sync handled for QuickBooks desktop?
A: We use our own Connector that is downloaded onto one computer and continually runs. This computer will be designated to synchronize with Order Time. You generally want to choose one which does not get turned off.
>> Installing the QuickBooks Desktop Synchronization Tool
---
Where does the work order fit into the flow between quote and ship doc?
A: You can create a quote, once they accept your pricing, it can be set to Closed - Won and you can execute a linked Work Order to produce the item. You can set a promise date and manufacture date to keep track of your time frames. Once the item has been produced you start a Sales Order/Ship Doc to get it to your customer.
>> Everything you need to know about Ship Docs
---
So the ship doc is a completed sales order sent back to QuickBooks?
A: Yes! Ship Docs are the ultimate sales transaction in Order Time. It shows the items the customers purchased. When items are involved, it is the Ship Doc that deducts inventory. They can be created straight from a Sales Order or manually from the side menu
>> Everything you need to know about Ship Docs
---
Can conversion of a sales order to an invoice be handled outside of Order Time?
A: We don't recommend it as that would throw off the inventory. You wouldn't want to create a manual adjustment on your inventory for each order. However, you can create an invoice using a Sales Order in Order Time by clicking on Create PDF. You can also edit the template for invoices under Settings > Form Templates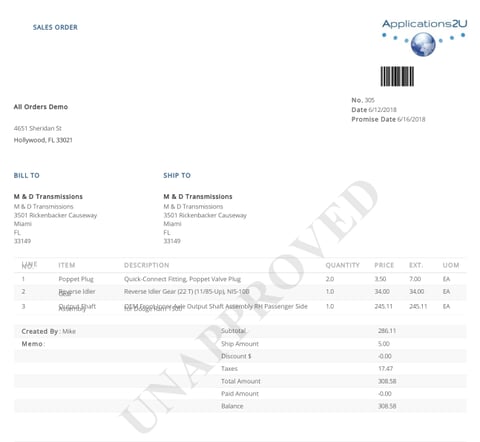 >> Creating a Sales Order (Scroll to the bottom for the PDF part)
---
Does order time have any unit of measurement conversions?
A: Yes. Using UOM Sets you can convert multiple Units of Measure. A Unit of Measure Set will define how your items are sold, purchased, and used when it is different than the primary measure.
---
We have 30,000+ unique assembly items in QuickBooks, each with a bill of materials. Can these be imported into Order Time with their individual BOMs?
A: Order Time will import all of the BOMs from QuickBooks. Alternatively, you can import individual Bills of Material in CSV format via Settings > Import > New Import Job
>> More about Imports, video included
---
Thank you for reading along and learning more about Order Time. We're glad to field complex questions from our customers because everyone's business is different. We excel at problem-solving and we are dedicated to helping your business grow!