One of the points we focus on when we are implementing Order Time is your company's supply chain. In doing so, we gain an understanding of your flow of inventory from supplier to customer.
Understanding Supply Chains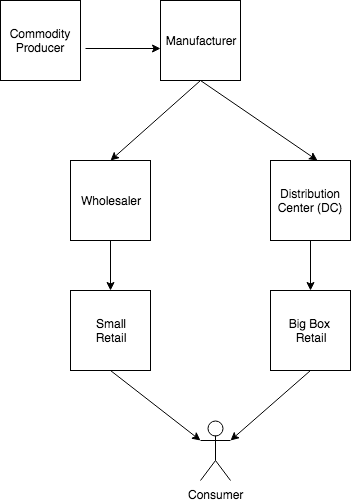 This diagram shows the consumer goods supply chain in general. We start with raw material and the commodity producers. Here we are referring to things like cotton, petroleum and steel sourced from farms, refineries and mines.
Manufacturers
combine raw materials with know-how and labor to produce finished goods. Large manufacturers do not typically sell to small
retailers
, that is the function of the
wholesaler
. Wholesalers (a.k.a Distributors) maintain warehouses in key geographic locations so they can efficiently supply retailers. Large retailers, like Walmart, maintain their own distribution centers (DCs) thus bypassing the wholesaler.
Vertical integration is when a company occupies two or more of the above links in the supply chain. Wal-Mart is both a retailer and a distributor, another example is that Apple Computer is both a manufacturer and a retailer.
There are as many variations to the above general diagram as there are companies. The Internet has disrupted the traditional supply chain substantially. Manufacturers are selling directly to consumers through their websites. Wholesalers are drop-shipping small packages to consumers and retailers are shuttering their brick and mortar stores in favor of an online presence.
Unique Supply Chain Variations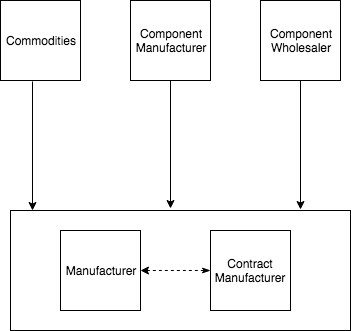 This second diagram shows the industrial goods supply chain where the end customer is not a consumer but rather another business.
Manufacturers will source raw materials and components from commodities producers, component manufacturers and wholesalers. They may even buy some components from retailers; Home Depot comes to mind.
A manufacturer may have their own production operation or they may employ contract manufacturers for part or all of their production. If a manufacturer outsources all of their production and they purchase finished goods, then from an inventory management point of view, they operate more like a wholesaler.
Why is Supply Chain Optimization Important?
Your business' supply chain is the system you use to get your product to end consumers. Supply chain management involves optimizing your operations to maximize both speed and efficiency. Speed is important because customers value fast service. Lowering your prices is a standard way to out-compete other businesses, but that's not always feasible. For example, the cost of doing business limits how low you can drop your prices without going into the red. Supply-chain management provides a way to develop a competitive advantage without having to lower your prices.

While it can be difficult for small businesses to compete on such a level, improving supply-chain management still offers benefits if optimization can shrink processing and delivery times and lower costs.

Follow us!