Businesses today are facing bigger challenges than ever before. From technology to finances to security issues, it can be difficult to manage all the moving parts. Automating your inventory management system is a fast and simple solution to ensuring you are keeping tabs on all aspects of your business with the click of a button. Whether you've been using Number Cruncher's All Orders or Order Time for the first time or a long time, our new partnership with Ace Cloud Hosting will ease your business automation even more.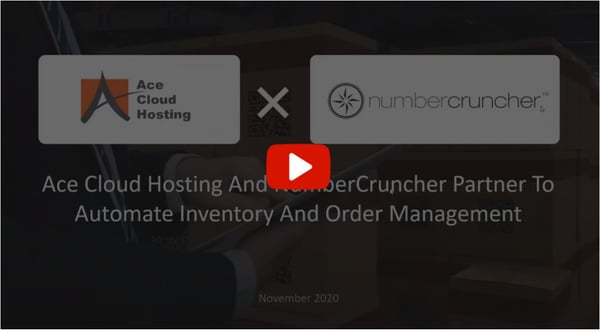 What is Ace Cloud Hosting?
Ace Cloud Hosting is an award-winning hosting provider that serves numerous industries, including warehousing and manufacturing, legal, retail, finance, construction, and more. Its cloud-based system is fast, secure, and easy to use, making for a simple transition no matter what stage or size your business is in.

Ace is unique in the fact that it is cloud hosted, meaning customers can access their data and applications from anywhere. Especially in current times where businesses are being run remotely, this cloud provided feature is essential to maintaining daily operational functions no matter where you are. Using the cloud environment of a third-party provider, one can adjust business resources and functions depending on current demand and changing requirements.
Why should I use Ace's cloud-hosted platform?
There are so many reasons as to why Ace Cloud Hosting is the perfect solution to your business needs in conjunction with Order Time or All Orders. Here are just a few:
Easy Collaboration – Ace allows for simple collaboration with clients and teams in real-time, no matter the location. This is especially helpful in accounting departments, where CPAs and clients can work on the same file simultaneously, ensuring accuracy and efficiency along the way.

Reduced Costs – Because Ace is hosted in a cloud environment, users don't need to purchase any expensive equipment or hardware for the office nor do they need to allocate office space and power requirements to run these systems. Ace's customer service is available 24/7, so you don't need to hire any additional IT to help run the system.

Advanced Security – Ace offers clients bank-level security as it has firewalls, data encryption, multi-factor authentication, and DDoS protection to prevent any hacks or intrusions. Included with Ace is 24/7 CCTV surveillance and on-staff security in data centers to keep your files backed up and secure. Secure accounting operations feature identity and access management to restrict unwanted users from accessing applications and data to only those authorized.

Data Backups – With Ace, there's no need to purchase a local backup server to keep your data safe. Instead, backups are taken automatically and regularly, so that you can easily recover your data from any device. Off-site backups are also available under multiple layers of security. In fact, Ace is known for its industry leading 100-days of rolling back up that runs each day and keeps your information secured in multiple data center locations.

Easy Access and Mobility – A prime benefit of Ace's cloud hosted environment is that it can be accessed anywhere, anytime. You can access any data or application from devices such as smartphones, tablets, and desktops no matter where you are. This means you'll never miss an important update from clients again and you can stay on track with all projects remotely in real-time.

Disaster Recovery – As stated with the data backups, Ace makes data recovery simple with its 100-day backups. Even in times of disaster, your information is safe because of its multiple backups with high-level redundancy with a 99.999% data retention rate. Stored at distant data centers, you can easily restore your data from your backups and continue with business as usual.
How does Ace work with NumberCruncher?
Whether you've been loving Number Cruncher's All Orders or Order Time for a while now or you're just getting started, you will find new visibility into your business from our new partnership with Ace Cloud Hosting. You can either host All Orders on Ace's cloud platform or integrate Order Time with cloud-hosted QuickBooks Desktop.

Whereas typically with All Orders your QuickBooks files and database would go straight to the cloud, Ace allows you to access those files in a Windows environment from anywhere. If you're using Order Time and QuickBooks Desktop, your files will now be accessible from anywhere as Ace allows you to become fully cloud based. This means you can synchronize your QuickBooks files between both Order Time and Ace's hosted server. In fact, it only takes about an hour to implement a QuickBooks file on an Ace Cloud Hosting server.


To learn more about Order Time and our partnership with Ace, click here.
---
Follow us!