When selling any product or service, it is key to broadcast to the right audience on the perfect platform. Luckily, Target recently launched Target+, a curated third-party marketplace, perfect for selling an array of products while utilizing Target's wide customer recognition.
Similarly to other marketplace platforms such as Amazon and Walmart, Target+ allows third-party sellers to list their products on Target's website in order to reach a much larger audience than otherwise reached.
However, Target+ took the initiative to carefully select their sellers to maintain high quality and maintain the Target brand image. Selected sellers will be invited to join the Target+ program in efforts to broaden products available on Target.com.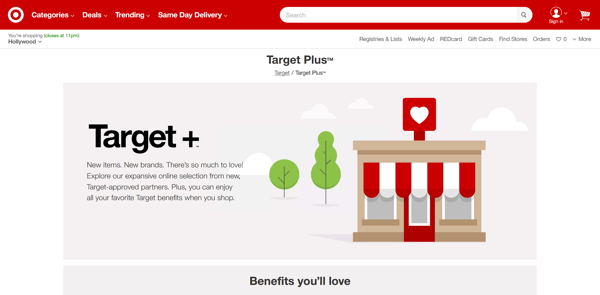 Products available include furniture, toys, electronics, and sporting goods with room to expand as Target+ learns more about customer desires and demands. With these products posted to such a large audience, Target hopes to increase sales and allow collaboration with the third-party sellers.
Sellers who get invited to join the Target+ marketplace have great benefits such as increased customer reach and in return, higher sales. Target+ gives third party sellers and smaller companies an opportunity to broadcast their products to a much larger audience and hopefully increase their brand recognition.
-
To learn more about Order Time's integrations and EDI, click here! We natively connect to every eCommerce solution, find out more!
---
Follow us!