Organizing your business has many aspects, some of which are complicated to organize. From managing vendor-retailer relationships to inventory levels, collecting and arranging data for your business can be tedious and time consuming. Luckily, EDI, or Electronic Data Interchange, can be used to exchange standard business documents between businesses in an electronic format.
But first, what exactly is an EDI?
Electronic Data Interchange is primarily used to replace paper documents with electronic ones, then exchanged in a standardized format. With this system, small businesses, whether eCommerce or not, can utilize the speed of an EDI to increase the efficiency of everyday tasks.
Using an EDI helps with automating transactions, faster processing, reduction of manual data entry errors, reduced costs, and validation of all content. With these benefits, your business can run smoothly without the extra weight, worry, and waste of manual exchanges.
To ensure safe data exchanges and rules for the creation of common business documents, EDI Standards were establishment. By creating rules pertaining to proper document layouts, businesses can spend less time when setting up integration components and reduce overall costs.
How Can I Start with EDI?
Obtaining EDI involves a few easy to follow steps. Most importantly, your company and you trading partner must decide you want to integrate an EDI to conduct business. Next, obtain the EDI Implementation Guide and purchase your EDI software best fitted for your business. After setting up your EDI, you should keep open communication with your trading partner to determine how the EDI documents will be exchanged.
To verify that your software if properly working, you and your partner should conduct a series of tests exchanging documents. After ensuring your system works properly, you are free to switch from paper business document exchange to EDI!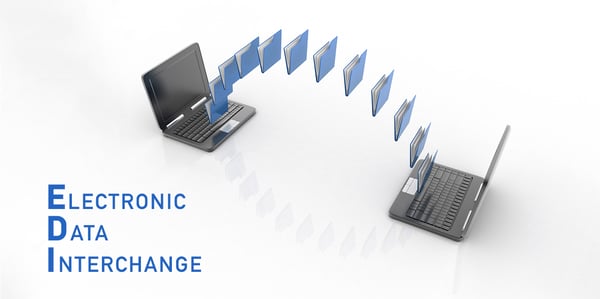 Popular EDI Partners
It is crucial to note the various popular EDI trading partners that can integrate with your business. Some of the most notorious order resources include Amazon, Target, Walmart, Home Depot, and eBay.
With this in mind, there are many endpoints which can be organized by type. Marketplaces include Wayfair, Zola, and Costco, while popular POS systems are LightSpeed, QuickBooks POS, Celerant. Well-known Order Writing Systems include Brandwise, BrokerForce, and NuOrder. 3PL systems such as SP Express, DIrectShot Distribution, and FSI Fleet Services US are commonly used, as well as 3PL Central, Synapse, InfiPlex. Lastly, B2B Marketplaces such as OmegaNet, Speartek, and Faire are notorious for great solutions. To learn more about Order Time's integrations and EDI, click here!.
How Does Order Time Work with EDI?
Order Time integrates perfectly with your EDI solution. Typical data exchanged through an EDI includes purchase orders, invoics, and shipping notices, each individually numbered for easy tracking and organization.
When relating to Order Time, it is important to note the common EDI documents that are used to both send and receive data with your trading partner. A Purchase Order is imported to generate a sales order, or to reflect what is being ordered by the customer on the purchase order. With this comes the Purchase Order Acknowledgment, which Order Time exports as response that the purchase order was successfully imported.
A Purchase Order Change Request is imported into Order Time to modify an existing Sales Order that was generated from the purchase order, usually pertaining to updating line item quantities or ship/promise dates. A Ship Notice/Manifest is exported from Order Time to confirm what was shipped by the warehouse to the customer. These notices pertain to packaging information, label data, and printing. Order Time then exports an Invoice for the customer to enter into their accounts payable, typically handled by QuickBooks.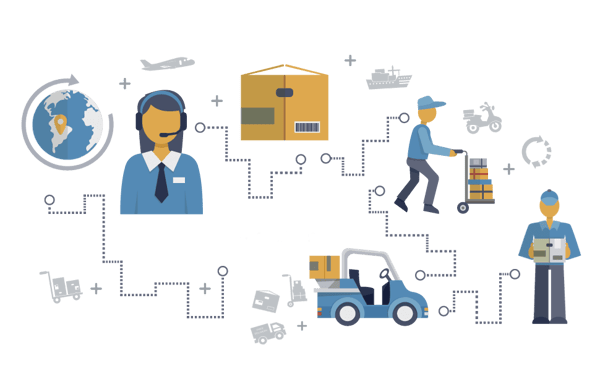 Order Time Integration EDI Partners
Many common EDI partners are used to connect your business across the supply chain. By integrating EDI, digital marketplaces, and inventory management, EDI partners are a simple means to increase the overall efficiency of your business.
TrueCommerce uses a 4-link model to drive customer successes and profits. These include your customers, your suppliers, your channels, and your systems. With this unified commerce platform, TrueCommerce seamlessly enhances overall accuracy, timeliness, and productivity that allows you to focus on delivering the best customer experience. To learn more about TrueCommerce and how it integrates with Order TIme, click here.
With similar goals, SPS Commerce is an EDI partner that works to connect 3PLs, retailers, and suppliers to streamline manual processes and overall enhance collaboration. SPS connects you and your trading partner in amazing speed with the use of cloud-based EDI. Utilizing this EDI allows you to spend less time manually exchanging data and more time driving your business. Click here to learn about SPS Commerce's integration with Order Time.
With each of these features, Order Time provides the industry standard in order management for EDI and has specialized integrations for Amazon, eBay and more. To learn more about Order Time's integrations and EDI, click here!
---
Follow us!